Gold plating metal dome
by admin on May 24th, 2010
Gold plating metal dome is that the contact area of metal dome is gold plating. The material of our gold plating metal dome come from Japan, it's the first grade material. The life of this kind is more than 300,000 times & the contact resistance is less than one ohm with better conductive. Normally, there are also two sided gold plating, this type isn't better,  including the quanlity, stablity, contact resistance, etc.
Our company are the leading manufacture of  metal domes in China, If you need more infomation, please do feel free to contact us.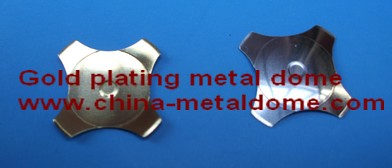 Related Posts:
1. Triangle metal domes with legs;
2. Stainless steel metal dome;
3. Snap Dome Manufacturer and Supplier in china.