The stoke of metal dome
by Andy on July 20th, 2009
we have got some customers to ask the stoke of metal dome, because of they have the required about the whole spacer for the domes.So what's the stoke of the metal domes? You can see the below picture: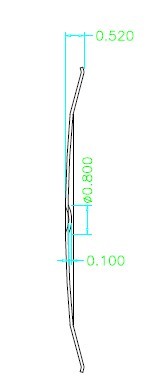 From it, you can see the total height is 0.052mm  , and the thickness is 0.10mm for this item, then what will be the stoke?
There is a formula for stoke: S(stoke)=H(height)-T(thickness)=0.042mm
But if there is a dimple in the center, what will be stoke? I think it's easy for you now, right?
S(stoke)=H(height)-T(thickness)-DT(dimple height)
I think you are clear about stoke of metal dome now, if you need more information, please contact us or see our FAQs.