UV Plunger Metal Dome Array
by admin on March 2nd, 2012
What's the UV Plunger Metal Dome Array? UV Plunger Metal Dome Array is that the normal metal dome array with plunger on the top.
Do you know why there is UV plunger on the top of dome array? There have two functions as below:
1. increase the total height;
2. increase the click feeling.
Please see the pictures of this product: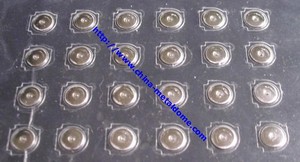 The height of the plunger normal is 0.25mm. And it should set up tooling for mass production. We do make samples don't needtooling. if you need to know more information, please contact us anytime.