Poly Dome
Poly dome is formed by polyester film hot pressing, and with a switch function. Mainly used for remote control switches, membrane keypad,etc..

Poly dome can be printed by silver oil or carbon oil, or silver and carbon oil printing is also an option. Poly dome typically used in two ways: One is poly dome glue with rubber adhesive tape, poly dome's top adhesive tape to use double-sided rubber adhesive tape. The other is poly dome glue with the PCB board to use, poly dome do not need the top adhesive, but use double-sided rubber adhesive tape to the bottom.

Structure: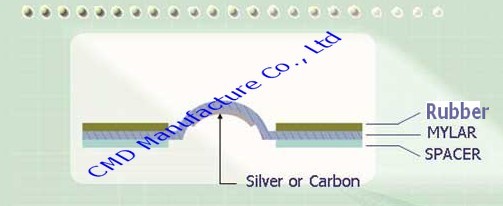 Main Specifications:
1. Diameter:3mm,4mm,5mm,6mm ;
2. Force options: 130g, 160g, 180g, 200g, 250g;
3. Total height: 0.80±0.05mm ;
4. Stroke: 0.65±0.05mm ;
5. Force tolerance: ±30g;
6. Click ratio: 40-60% ;
7. Life cycles: >150,000 times ;
8. the contact resistance: silver oil ≤ 5Ω; black carbon oil ≤ 200Ω ;
If you have the inquiry of the poly dome, please do feel free to contact us, we are glad to be at your service anytime.

Service World Widely